Introduction to Pepperthewaterrescuepup Wiki
Welcome to Pepperthewaterrescuepup's wiki. Please be nice to the other users. this is where all of Pepper's friends from all of his media's such as DeviantArt, Curiouscat, discord, and other wikis can hang out and create stories, or mini rps.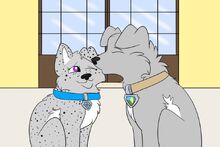 Pepper and her Father Cailean
Welcome to the Wiki
This is a wiki, a website that anyone, including you, can edit. Go ahead, try it out! Use the buttons below to create your first episode and character pages.
Create an article about an episode by typing the title below:

Create an article about a character by typing the title below:

Create an article about a whole season by typing the title below:
Pages created so far